Posted on
July 13, 2014
by
Growing Small Farms
Originally written by
Debbie Roos
, Chatham Co. Extension Agent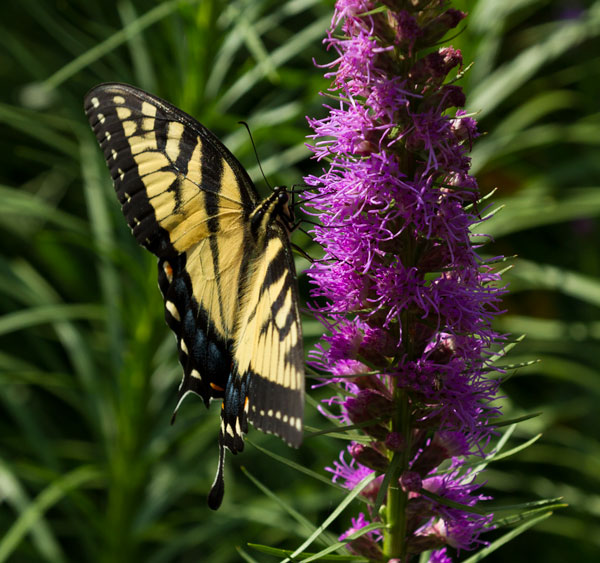 Today I saw my first tiger swallowtail butterfly of the year,
much later than normal. Photo by Debbie Roos.
Today I saw my first eastern tiger swallowtail butterfly of the year in my pollinator garden in Pittsboro, and it's mid-July! Last week I saw my first black swallowtail. Earlier in the spring I had a handful of black swallowtail and monarch caterpillars in the garden, and I saw one lonely adult monarch on April 26 this year. I have seen dozens of others, like hairstreaks and American ladies, but way fewer than in a normal year. Monarch butterflies receive alot of attention in the national media as their numbers have decreased drastically in the past few years.
What about our other butterflies?
Alot of folks have asked me why they aren't seeing many butterflies this year. I can't answer that but I can share what one of North Carolina's top butterfly experts thinks.
Dr. LeGrand compiles season summaries of butterfly sightings for the
Carolina Butterfly Society's
The Chrysalis

newsletter. You can
view his summaries from 2012-2014 below
.
First of all, we are not imagining things, there IS a dearth of butterflies this year. In fact, Dr. LeGrand says that "

2014 is – by far – the poorest year for butterflies that I have witnessed since I started butterflying in 1991. Even finding a swallowtail, yes even a Tiger Swallowtail, has been a chore, as has just about everything else."
Dr. LeGrand notes that both winters of 2012-13 and 2013-14 were rather cold, and the first was much colder than normal. The latter was more normal; however, both had quite a few severe ice and snow events, and note that cold weather continued well into March, with both years getting off to very delayed starts of 10-14 days. See his
data summaries below
.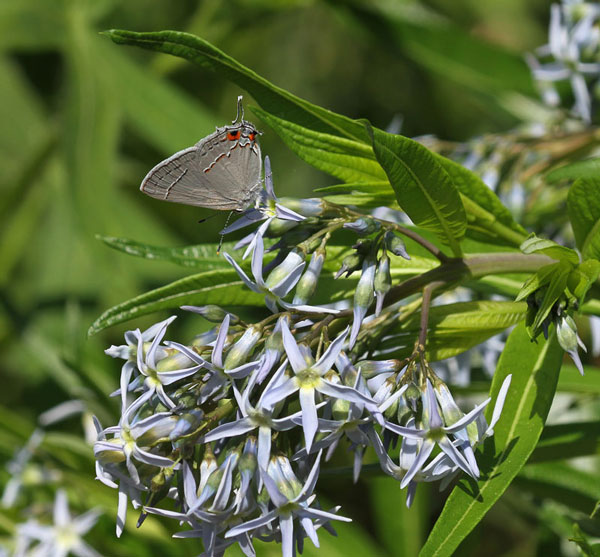 Gray hairstreak on a bluestar in mid May.
Photo by Debbie Roos.
Other observations from Dr. LeGrand:
Since North Carolina has not been in drought status for nearly all of these two years, drought cannot be a factor in the low butterfly numbers. And, of course, "habitat loss" isn't significant on a large scale, so that doesn't explain the sharp drop in numbers. Why is the eastern half of NC so depauperate, as compared with the western half of the state? Usually, in a given part of a year, a group of species is "low" – maybe American Lady and Red Admiral, or the anglewings, or the grass skippers, or hairstreaks. But this year, EVERYTHING is below normal in the eastern half of NC. My personal belief – severe cold AND wetness, in combination, in winter and especially into March, has done in various life stages – allowing for more fungi, or predators, on larvae, etc., or possibly washing away pupae, etc.
I guess it remains to be seen how much the butterfly population rebounds this year. Here's hoping we see an uptick in the numbers and diversity of butterflies for the remainder of 2014!